I first came across Fela A Kuti in the mid 1980's. I saw an image hung on the wall of a flat off of Burdett Road in Mile End, East London. What draw me to the image was the way in which the person presented himself; both hands raised above his head, his face painted, his chest bare with what looked like a chain drapped around it. I later came to know that this was a typical pose of Fela Kuti. But it was his observations and message that I found must interesting, with his comments on colonialism, international corporations and the effects of white supermacy upon a Nigeria corrupted by and through a colonial past, working on the present.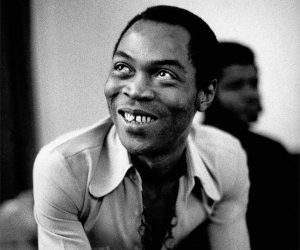 The son of the Yoruban parents, Fela Ransome Kuti was strongly influenced by both parents. His mother, Funmilayo Kuti , was a feminist and leading figure in the anti-colonial movement while his father Reverend Israel Kuti, was the first president of the Nigerian Union of Teachers. Arguably one of Africa's most controversial musicians, throughout his life Fela continued to fight for the rights of the common man (and woman) despite vilification, harassment, and even imprisonment by the government of Nigeria. Rather than continue with a brief biography of Fela here, I would recommend viewing the 1982 documentary 'Music is the Weapon', Alex Gibney's 2014 film 'Finding Fela'  and by visiting fela.net.
Influence upon me
Even though I could not and still to some extent cannot quite understand what Fela was commenting upon in his lyrics, due to them being mainly in Nigerian pidgin English, it seemed to me that they were dominated by political events and discussions ranging from Nigeria's political system and colonialism to global corporations such as ITT.
From the large catalogue of work that Fela produced I have selected ten albums that I feel summarise his work and influence upon me:
Roforofo Fight. 1972
Gentlemen. 1973
Expensive Shit. 1975
Excuse O. 1976
Zombie. 1977
Sorrow Tears and Blood. 1977
Coffin for the head of State. 1980
I.T.T. 1980
Original Suffer-head. 1981
Teacher Don't teach Me Nonsense. 1986